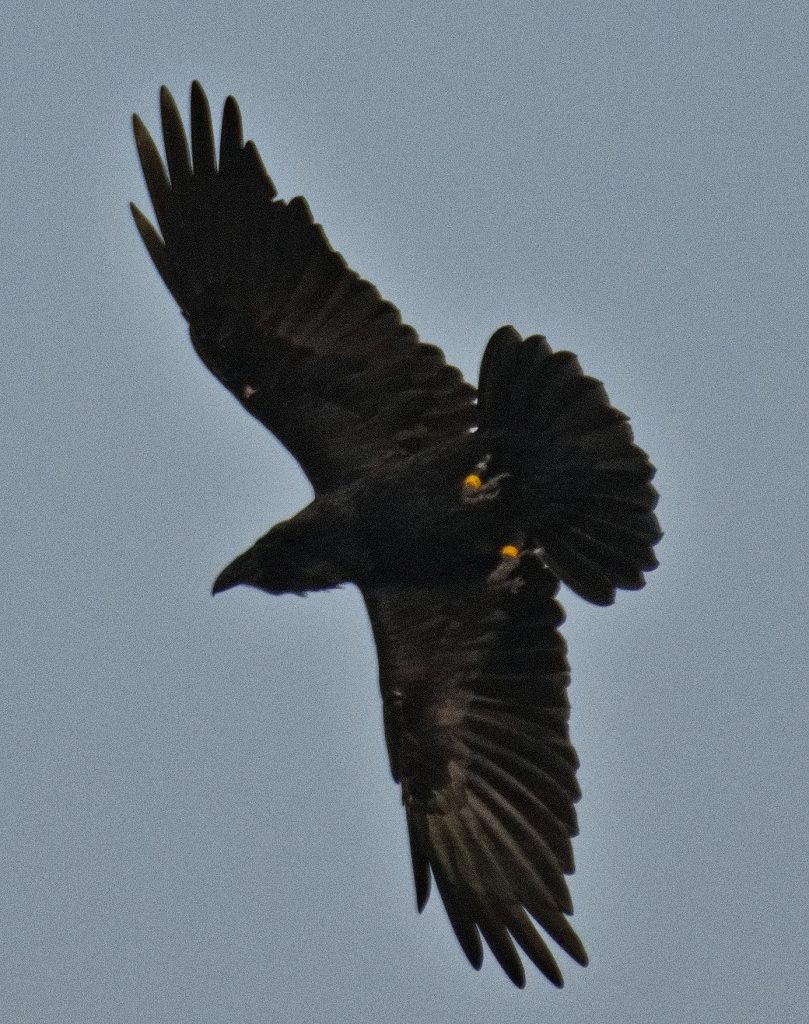 On May 1, 2023 I received an email from David Estroff of Gig Harbor, Washington with "Is this your bird" as the subject. I knew immediately that his email was going to be about a banded bird. I hoped that it would be one of mine and it was!
David was birding on Grays Harbor National Wildlife Refuge's Sandpiper Trail on April 26 when he saw and photographed a Common Raven soaring off to the east. "I didn't see the bands until I was processing the photos," he wrote.
David contacted me through a neighbor who knew about Coastal Raptors research efforts involving bird banding. Following is the information that I shared with David, and more.
This is raven RGYLSY, so named for the color band combinations on the legs. For RGYLSY, R = right leg; G = gray band; Y = yellow band; L = left leg; S = silver band (the US Geological Survey band) and Y = yellow band. In your photo I can see that the silver band on his left leg is above with the yellow one, which confirms to me his identity. No other raven that we've banded over the years, ten in total, wears this band combination.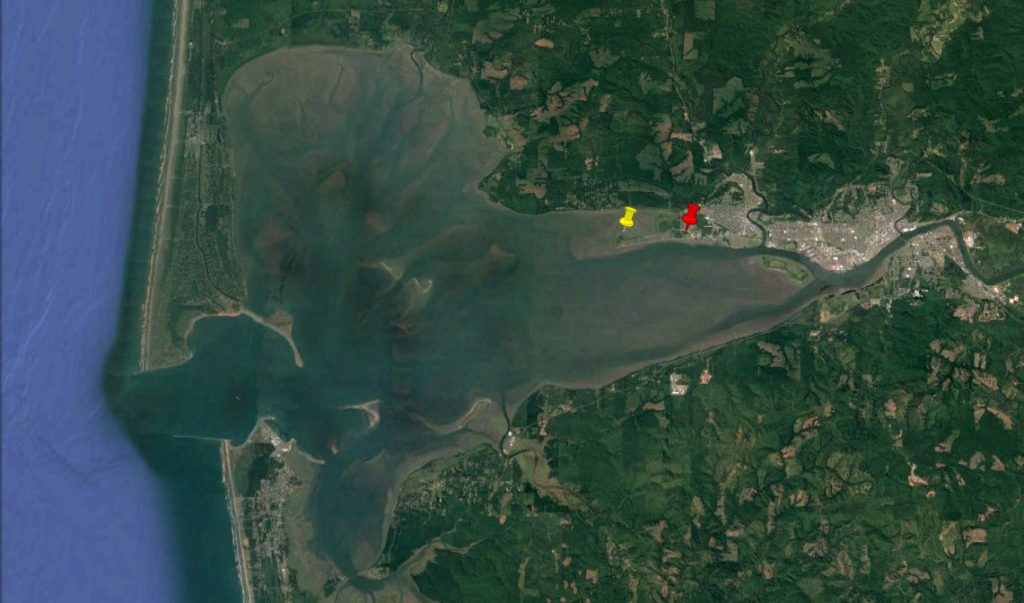 RGYLSY was at least one year of age when banded on 6/1/2014 (based on plumage at banding). That means this spring he (or she!, we don't know which) is at least 10 years old!
My bird did well to make 10 plus years. The oldest wild raven on record with the federal Bird Banding Lab was age 22 (recovered dead in Nova Scotia). The second oldest raven takes a big jump down in age to 13 years. If you want to see more BBL longevity records for ravens and other birds, click here.
I shared with David photos below: RGYLSY flying off after banding and perched on a building at the Hoquiam airport. The photos were taken by Tom Rowley who was there on banding day and who often walks at the airport and refuge with his camera.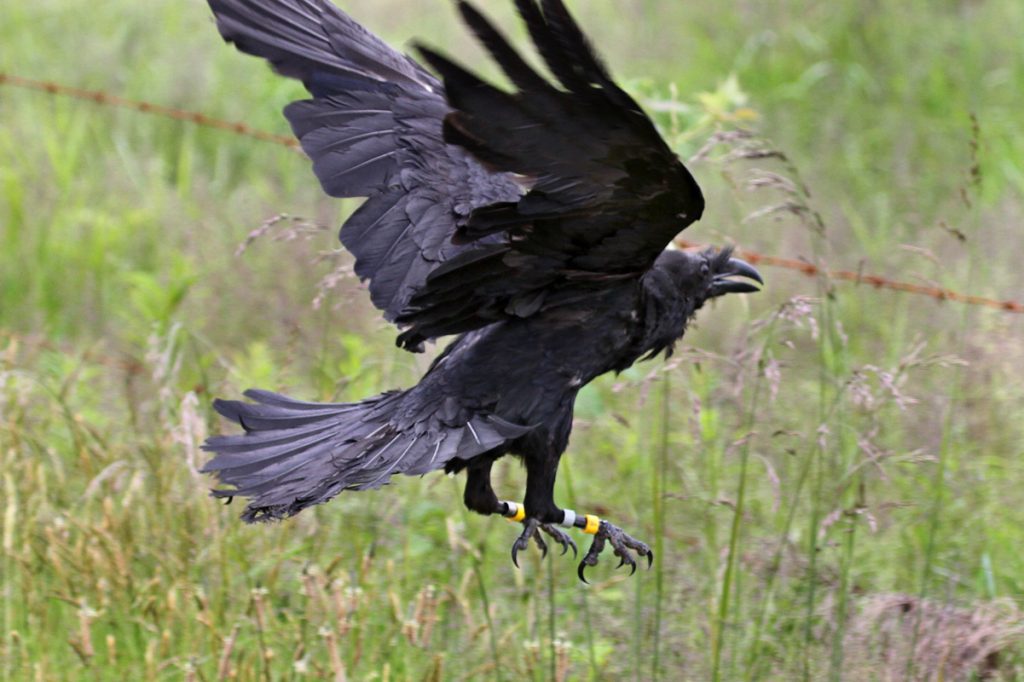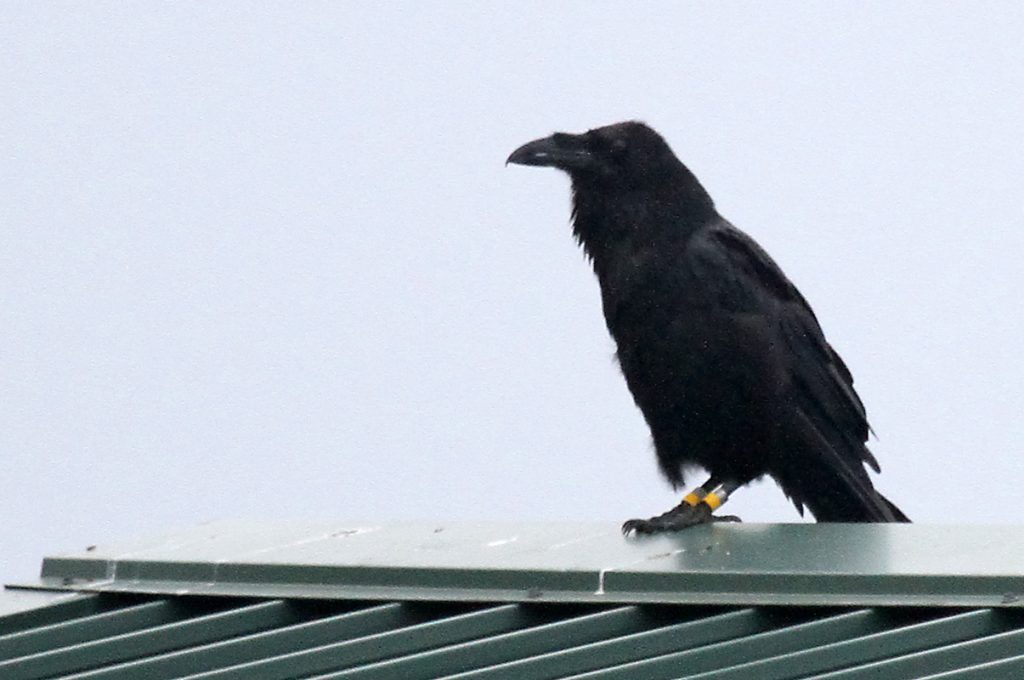 I also shared the photo below with David, which was taken by trail camera while RGYLSY feeds on an elk carcass.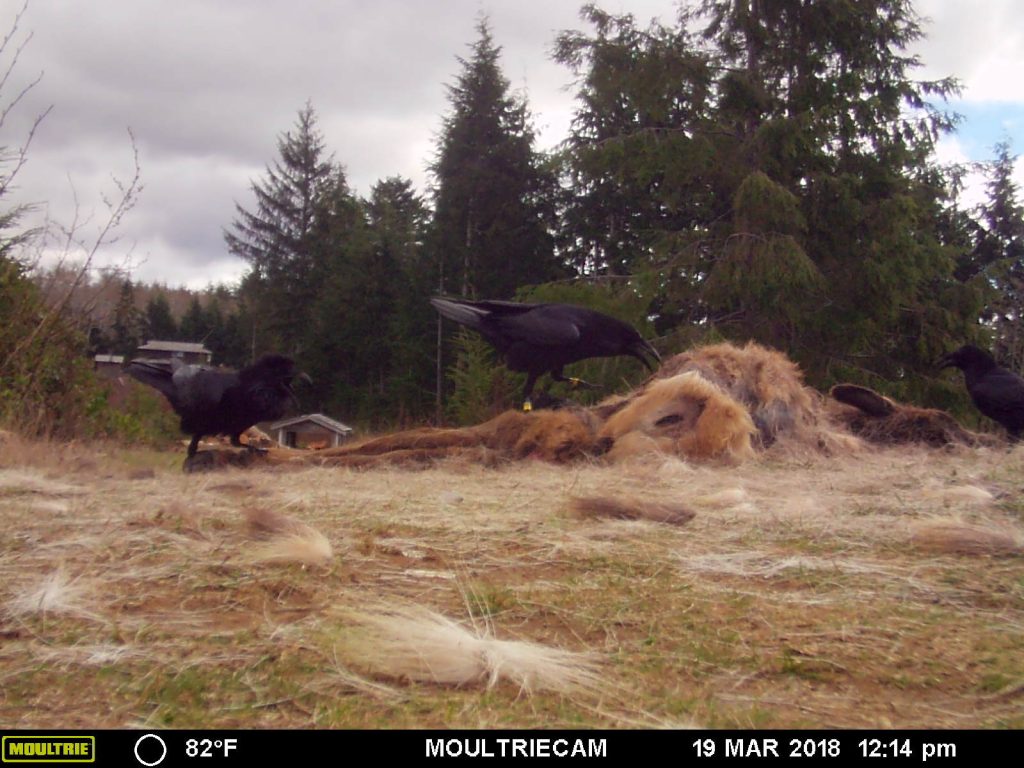 And, last but not least, among the re-sightings of RGYLSY is one where he was caught on camera feeding on a deer carcass. He makes a cameo appearance at 1 minute 54 seconds into a trail camera video recording. To check this out, go to the title Avian Scavengers on the Stories in Video page.
Thanks much David, for your re-sighting of raven RGYLSY. Yours was the 18th re-sighting since banding in 2014. RGYLSY is likely a year-round resident of the Grays Harbor area, having been re-sighted once in winter, 12 times in spring and 5 in summer; all of these were less than three miles from the banding location.