Dale Larson, President, Hoquiam, Washington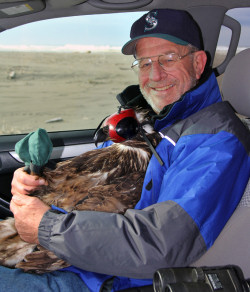 Nearly three decades ago when I birded in the bush and on foot, Dan Varland put a new twist on an old cliché: "A bird in the hand is worth two on the beach." You see the result, and I haven't looked back.
A long-retired academic, I was introduced to birding in the sixties prompted by my college roommate David Pearson. Now a global ecologist and research biologist at Arizona State University, Dave first introduced me to California condors. I couldn't imagine back then I'd be helping Dan Varland judge prospects of reintroducing them to our Pacific Northwest Coast. That's a key research goal of Coastal Raptors.
My volunteering was practical at first, sawing, painting, wiring, and wrenching our equipment, but in serving on the board I've learned since to grasp larger aims—advancing raptor research, conservation, and public education. We serve a growing community of birds and birders alike, and we all want our ongoing work in the heads, hands, and hearts of others as well. Your browsing here, "surfing" on these study beaches, is part of that larger mission. Enjoy.
Rich Van Buskirk, Ph.D., Vice President, Forest Grove, Oregon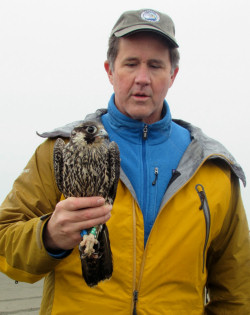 As a professor at Pacific University in Oregon, I conduct research on birds of prey in the Willamette Valley, with particular focus on the American Kestrel. I was introduced to Dan and learned about Coastal Raptors during a meeting of the Raptor Research Foundation in 2010. That meeting was the beginning of a professional friendship through which I've come to know Dan as a generous colleague quick to share his extensive experience and as a passionate advocate for the conservation of raptors. It didn't take long for me to join the crew at Long Beach and lend a hand to the work of Coastal Raptors. Working closely with these magnificent birds is a thrill every time. It's equally rewarding to spend time on the beach with Dan's crew of dedicated volunteers and to watch him preach to the passersby about the importance of raptors and the need to understand them better through field research.
Dan Varland, Ph.D., Executive Director, Hoquiam, Washington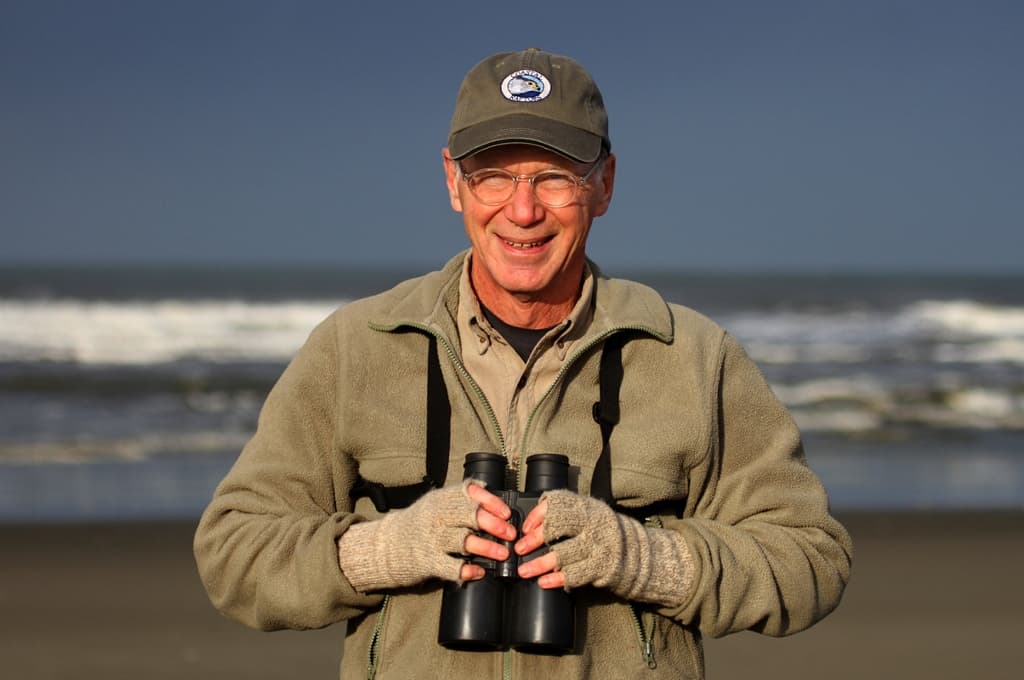 By nature, I am a people person. And I also have a passion for raptors. With that combination, it is not by accident that I am Executive Director of Coastal Raptors. Since 1995, I've led an all-volunteer effort to monitor raptor activity on the coastal beaches of western Washington. Until March 2009, funding support came largely from Rayonier, Inc., a forest products company and my employer from 1993 until then. Rayonier funding for the project ended when my wildlife biologist position was eliminated due to the severe economic downturn. In 2009, in order to continue the work and to provide a framework for future funding, I established the non-profit Coastal Raptors. As the board formed, I became Executive Director. The ultimate goal of Coastal Raptors is conservation of coastal raptors. This we accomplish through our research and education programs. Research leads to informed decisions on conservation issues. Education leads to understanding of and respect for our magnificent coastal raptors and their habitats. Over the years, more than 500 people have participated in the field. While many live close by, many others travel from Seattle, Portland and beyond to help and to learn. More still have followed us on Facebook and can now track us on my site blog, "Understanding Coastal Raptors," about which you can also learn more here.
Pam McCauley, Secretary, Aberdeen, Washington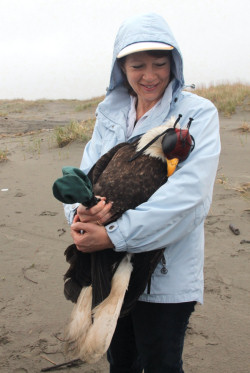 For more than 20 years, I've lived and raised my children in Aberdeen, Washington. My first exposure to Coastal Raptors was in 2014 when I attended a raptor educational program at the Aberdeen History Museum. The program featured Jane Veltkamp, Executive Director of the Idaho-based non-profit Birds of Prey Northwest. Jane showed two rescued and specially trained, live raptors: a Golden Eagle and a Peregrine Falcon. A few weeks after the program, I worked with Dan and other volunteers in capturing a Bald Eagle for research monitoring the health of Bald Eagles, Turkey Vultures and Common Ravens . I've had many opportunities to participate in Coastal Raptors field work since then. My family has always questioned whether my eyes more frequently scan tree tops for eagles or focus on the road ahead while driving since it has always been a natural tendency for me to spot and admire these beautiful birds. Prior to these field research experiences, I didn't know that holding one in my arms and releasing it into the sky was even a bucket-list possibility! I am thankful for the opportunity to assist in Coastal Raptors research and conservation efforts.
JAVAN BAUDER, PH.D., BOARD MEMBER, TUSCON, ARIZONA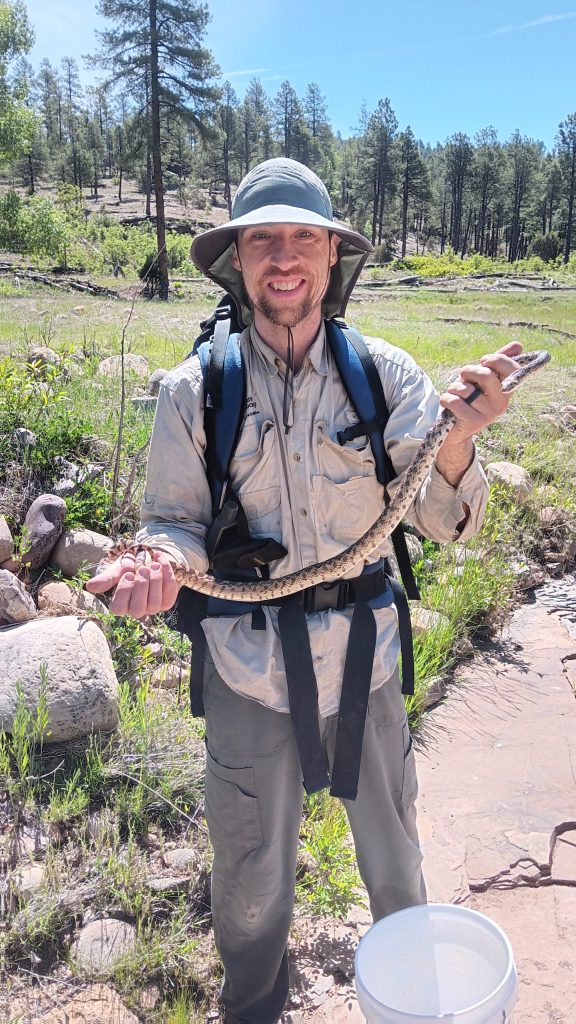 I grew up in Hoquiam with a deep interest in wildlife. As a home-schooled student, my parents were very supportive in providing me with in-the-field experience in wildlife biology and a mutual friend led us to Dan Varland in the fall of 1999 when I began helping Dan with his coastal raptor surveys. I got to hold my first banded Peregrine Falcon just a few days after my 14th birthday! I continued volunteering with Dan on his coastal raptor surveys and his owl nest box monitoring with Rayonier. Dan provided additional mentoring by helping me develop my own wildlife surveys for birds and amphibians and nest box monitoring on my grandparent's timber property in northwest Oregon. Dan was an incredible mentor during these years, and I directly attribute my subsequently successful career in wildlife biology to the experiences and connections that Dan provided. My work with Dan was interrupted by my family's move to southern Idaho in 2002 but we have continued to stay in touch over the years. Over the next many years, I earned my BS in Wildlife Resources from the University of Idaho, my MS in Biology from Idaho State University and my PhD in Environmental Conservation from the University of Massachusetts Amherst. After post-doc work at the Illinois Natural History Survey my family and I moved to Tucson, Arizona, to join the Arizona Cooperative Fish and Wildlife Research Unit at the University of Arizona as an Assistant Unit Leader. My research covers a wide range of taxa (including Bald Eagles) and questions spanning wildlife population and landscape ecology. I am excited to bring my career full circle by joining the board of Coastal Raptors where it all began.